Note: This article was originally published in the January 2008 issue of the Denver publication Community News.
Garbanzo Bean and Bell Pepper Salad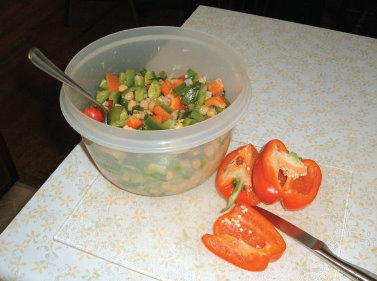 Photograph © 2008 Leonore H. Dvorkin
Basic recipe: In a colander, rinse and drain two 15-oz. cans of garbanzo beans (chick peas). Rinse, seed, and chop 1 large green bell pepper and 1 large red bell pepper. In a bowl, mix the beans and peppers. Season to taste with small amounts of olive oil and apple cider vinegar (or lemon juice), plus seasoned salt and black pepper, then stir well. Optional: Add one 7.5-oz. jar of Reese marinated artichoke hearts, cut a bit smaller. Some of the marinade from the jar is also tasty in the mixture. Spread the mixture in a shallow serving dish and garnish the edges with 4 hardboiled eggs cut into wedges (quartered lengthwise). Sprinkle the eggs with salt and pepper. Chill the mixture for at least 2-3 hours before serving.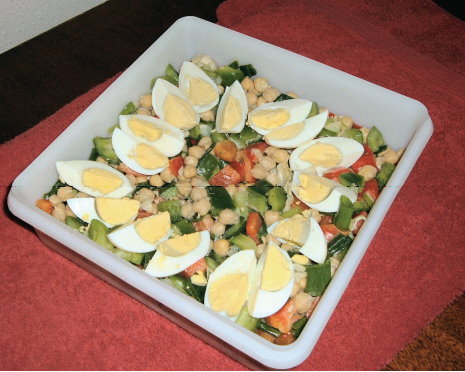 Photograph © 2008 Leonore H. Dvorkin
Variations: Add a few chopped green onions. Use more peppers if desired; a yellow one is pretty, too. If you like, first line the serving dish with rinsed romaine lettuce leaves; that adds more green and nutrition.
This serves 6 or more as a side dish or appetizer. If you mix in at least 1 cup of chopped, cooked chicken or turkey, it serves about 4 as a main dish. Add a dinner roll or a piece of garlic bread, and you have a complete, healthy meal.
Breastfeeding Can Make Your Baby Smarter
This benefit to babies has been all over the news, but it's worth repeating here. My only child is now 38, but I remember the months that I breastfed him as one of the most joyful and satisfying parts of being a new mother. Now, given this fascinating news, I'm gladder than ever that I had both the ability and time to breastfeed him.
A study from England and New Zealand has shown that 90% of babies carry a gene that turns breast milk fats into polyunsaturated fatty acids that accumulate in the brain and stimulate its development. This results in an IQ boost of about 7 points, a significant amount. The study proves that genetics and breastfeeding can work together to make a child more intelligent. (Source: The Week magazine, Nov. 23, 2007, p. 19)
Breastfeeding Will Not Make You Sag
On the same page of The Week magazine where I read the information above, there was reassuring news for women who may want to breastfeed, but who fear it will result in sagging breasts. A University of Kentucky physician has found that the choice to breastfeed or bottle-feed has no effect on how the breasts look later. It's pregnancy itself that causes breasts to lose their original fullness. The breasts swell and stretch during pregnancy, then sag later. Note: The effect is worsened in women who smoke, as smoking breaks down elasticity in the skin. (See below.)
Smoking Ages All Your Skin, Even Inside
Need another reason to try to quit smoking? How about this shocker?
It's well known that smoking ages facial skin, wrinkling it prematurely and making it lose its radiance and glow. [It also contributes to periodontal disease.] Now comes word that smoking wrinkles non-facial skin and skin covered by clothing. Damage increases with the number of cigarettes smoked per day and the number of years the person smokes. Cigarette smoke causes blood vessels under the skin to constrict, which reduces blood supply to the skin. Smoking even damages the connective tissue that supports the skin and the internal organs. (Source: Reuters)
A Super Site for Mastectomy Products and More
For many of us, health issues of middle and old age now loom large. I had breast cancer and a left-side mastectomy in 1998, and later wrote a book about that life-changing experience. (See Another Chance at Life: A Breast Cancer Survivor's Journey.) I didn't want breast reconstruction, and am happy wearing a silicone-filled breast prosthesis (breast form) in a mastectomy bra.
At a local store, I paid over $300 for my first Amoena prosthesis and over $40 each for my first mastectomy bras. Thus I was thrilled to discover the online medical supply site Metro Medical Online. They offer home medical products in 27 categories, including diabetic, incontinence, mastectomy, maternity, and pediatric supplies, even wheelchairs. The range is amazing and the service is fast. You can also reach them toll-free at 1-866-774-9513.
They carry numerous high-quality Amoena bras and breast forms at roughly 15-30% less than what you would pay in stores. I can personally recommend the Amoena breast forms Tria Aire 442 ($174) and the Luxa Lite 661 ($227). Much less expensive, fabric-filled "leisure" forms are also available. A very comfortable mastectomy bra is the Amoena "Annabell" style, #2126, just $34, or 2 for $61.20. The shimmery "Pearl Beige" is gorgeous. If you need home medical products, I hope you'll give these folks a try.